There are 12136 songs, on 1121 albums by 391 different artists in the playlist. Enjoy!
Plus One
Albums on artist pages are now sorted from Most Recently added (top) to Oldest (bottom).

You can request songs by clicking on any album title. :-) HAVE FUN :-)
Albums by Plus One in our playlist: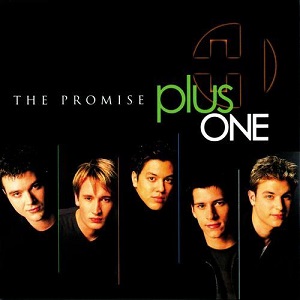 Released:
2000
Plus One was an American Christian pop band from the 2000s. Their greatest success came with the release of their debut album The Promise which featured the hits "Written on My Heart" and "God Is in This Place".
Their debut album, The Promise was released in May 2000. They toured with such Christian artists as Jaci Velasquez, Rachael Lampa, and Stacie Orrico. In 2001, Plus One was nominated for a Dove Award as New Artist of the Year.
In 2000, they appeared in an episode of hit soap opera Days of our Lives to perform on the show. The following year in 2001, they appeared as juvenile kids who form a group while in jail on the TV series Touched by an Angel. They also gave performances at the Democratic Convention of 2000, and several major league sporting events including games with the Los Angeles Lakers, Chicago Bulls, and Atlanta Hawks.
In 2002, after completing touring for their 2nd album, Obvious, Jeremy Mhire and Jason Perry left the group, stating that they were 'called to other ministries and obligations,' leaving the band with the remaining three members to carry on Plus One's music career. In 2003, the band was dropped from the label. Seeking to revamp their image, they signed a deal with Inpop Records and released their third album, Exodus. Exodus marked a departure from the boy band image featuring guitars and the band performing their own material for the first time.
In 2004, after completing the "Exodus 04" tour, Plus One quietly parted ways with Inpop and with each other, citing desire to move on to other projects as the reason for the break up.