There are 12772 songs, on 1218 albums by 397 different artists in the playlist. Enjoy!
Ricky Skaggs & The Whites
Albums on artist pages are now sorted from Most Recently added (top) to Oldest (bottom).

You can request songs by clicking on any album title. :-) HAVE FUN :-)
Albums by Ricky Skaggs & The Whites in our playlist: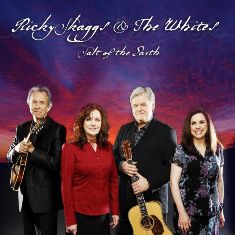 Ricky Skaggs is...
a well known mainstream country and bluegrass artist. He has released many albums in the mainstream country field. Ricky also produced albums that are specifically Christian in nature.
The Whites (pictured) are...
an American country music vocal group consisting of lead singer Sharon White, her sister Cheryl (born 1955), and their father Buck (born 1930). The whites also produced albums that are specifically Christian in nature.
In August 1981, Sharon White married Ricky Skaggs, who performed on several of the Whites' early releases. In 1987, the couple released the hit song, "Love Can't Ever Get Better Than This".
In 1991, the Whites joined producers Randall Franks and Alan Autry on the In The Heat Of The Night TV series album entitled Christmas Time's A Comin', performing on the track, "Let's Live Everyday Like It Was Christmas" (Sonlite/MGM/UA).
As of 2007, the Whites are regular performers on the Grand Ole Opry program in Nashville, Tennessee. Their collaborative album with Ricky Skaggs, "Salt of the Earth" won the 2008 Grammy for Best Southern/Country/Bluegrass Album.
The Whites can be heard on the O Brother, Where Art Thou? soundtrack with the song "Keep on the Sunny Side". They also appear in Down from the Mountain, the documentary of a concert given by the soundtrack artists.
The Whites were inducted into the Texas Country Music Hall of Fame on Saturday, August 16, 2008, in Carthage, Texas. They were inducted along with Buck Owens and Mickey Newbury. Also performing on the Grand Ole Opry with Buck, Sharon and Cheryl is Rosanna, better known as Rosie, the third of the four White sisters. She performs high harmony and occasionally does solo performance of the Mel Tillis classic "The Violet and the Rose".