There are 12469 songs, on 1204 albums by 393 different artists in the playlist. Enjoy!
Randy Stonehill
Albums on artist pages are now sorted from Most Recently added (top) to Oldest (bottom).

You can request songs by clicking on any album title. :-) HAVE FUN :-)
Albums by Randy Stonehill in our playlist: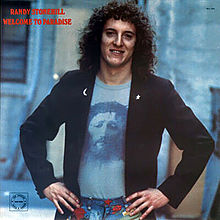 Randall Evan Stonehill was born in Stockton, California on March 12, 1952, the son of Leonard N. Stonehill , a high school teacher, and his wife, Pauline Correia, a school teacher of Azorean Portuguese heritage, and the younger brother of Jeffrey Dean Stonehill. While he was young, the Stonehill family relocated to San Jose, California. In June 1970, after Stonehill graduated from Leigh High School, in San Jose, California, he moved to Los Angeles where he stayed with pioneer Christian rock singer, Larry Norman in an attempt to launch his professional music career.
Religious background and conversion to Christianity
Stonehill described his religious upbringing as agnostic:
I grew up in kind of an agnostic home. My father is from a Jewish background, and my mother from a Catholic background, and both of them had disillusioning experiences in those churches. They came out raising my brother and myself with the idea that it didn't look like there was any God as far as they could see, but if we wanted to explore it for ourselves at a point where we were old enough and curious enough, then they wouldn't have any objections. They both said they didn't want to place that burden on us at an early age . . . forcing us to go to church when we didn't understand what it was about. And of course they weren't involved in it anyway because they were pretty bitter about their own lives, and felt they hadn't received much from their religious experiences.
On August 12, 1970 Stonehill was led to Christ by Larry Norman in the kitchen of Norman's Hollywood apartment. Stonehill's self-composed song "Norman's Kitchen" released initially in 1971 on his Born Twice, his debut album, describes the circumstances.
Career
Stonehill's first album, Born Twice was released in 1971, with financial help from Pat Boone. The album, primarily a live performance, was recorded for a mere $US 800, and according to Stonehill, it "sounds like every penny of it!" (Interviewer in 1994: "When will Born Twice be released on CD?" Stonehill: "When someone in charge makes a grave error in judgment." The album was released on CD in 2005.)
A year later, Stonehill made his film acting debut in The Blob sequel, Beware! The Blob (also known as Son of Blob), with Cindy Williams. Also that year, Stonehill with Todd Fishkind and Keith Green wrote "Until Your Love Broke Through", which would be recorded by numerous artists over the years including Stonehill himself, Phil Keaggy, Russ Taff and others. He made a cameo appearance in the 1973 Billy Graham film Time to Run, performing his song "I Love You."
In 1976, Stonehill released the Larry Norman-produced Welcome to Paradise, with Andy Johns (The Who, Rolling Stones, Led Zeppelin) doing the engineering. This became a landmark album for the songwriter and was voted "3rd most important contemporary Christian album" in a mid-1980s poll of Christian music critics. Norman would also produce the followup, The Sky Is Falling, which would start a twenty year Stonehill tradition of recording two consecutive albums with any given producer. That tradition continued through two albums with Terry Scott Taylor (including the landmark, Equator), two albums with Barry Kaye, two albums with Dave Perkins, two albums with Mark Heard, and two more albums with Taylor until the routine was broken with 1995's Lazarus Heart.
In the late 1970s, Stonehill would join forces with rock band Daniel Amos (also known as DA) for the Amos n' Randy Tour. DA would go on to be Randy's band for the next two releases, 1981's Between the Glory and the Flame and 1982's Equator. The latter album introduced Stonehill fans to the concert favorites "Shut De Do" and "American Fast Food." Stonehill would later provide backing vocals on a number of DA's projects including Doppelganger and would join DA's lead singer, Terry Taylor, for a duet on his first solo project, Knowledge & Innocence, entitled "A Song of Innocence." According to Jay R. Howard and John M. Streck, by 1981 Stonehill (like many other Contemporary Christian Music artists) had transitioned from an evangelistic focus to one of "encouragement, exhortation, and Christian accountability". In 1981 Stonehill stated that his "role in Christian seem[ed] to be one of an encourager to living a more committed life".
1984's Celebrate This Heartbeat teamed Stonehill with longtime friend Phil Keaggy for the song "Who Will Save The Children?" The two would frequently tour together over the years, even forming The Keaggy/Stonehill Band in 1989 with Daniel Amos bassist Tim Chandler and Swirling Eddie's David Raven on drums. The tour was in support of Stonehill's Can't Buy A Miracle and Keaggy's all-star tribute to '60s rock and roll, Phil Keaggy and Sunday's Child (which also featured Stonehill, Steve Taylor, Derri Daugherty, Mark Heard and others lending a hand). Keaggy and Stonehill would also team up with singer Margaret Becker, drummer Joe English, (former member of Paul McCartney and Wings) and others, in 1988 for the Compassion All Star Band's album One by One.
Stonehill followed Heartbeat with 1985's Love Beyond Reason, a pop-rock effort that teamed the artist with Amy Grant for the duet, "I Could Never Say Goodbye." The album also contained Stonehill's own version of "Your Love Broke Through." A video collection was also created for the album and released on VHS. A five song pop-rock EP entitled simply Stonehill was also recorded in 1984 with producer Kaye, with the intent of promoting Stonehill to the general music market, but very few copies were released. After a producer change to Dave Perkins, the next two albums The Wild Frontier (1986) and Can't Buy a Miracle (1988) featured a raw rock style similar to Bruce Springsteen.
Next Stonehill recorded Return to Paradise in 1989, produced by Mark Heard. The title referred back to Stonehill's acclaimed Welcome To Paradise album, which ostensibly put him on the map as a Christian artist. Return to Paradise included Stonehill's cover of the Mark Heard song "Strong Hand of Love."
In 1990, in honor of Stonehill's 20th anniversary in the music business, friends gathered for a special concert celebration. Musical performances included appearances by Daniel Amos, Tom Howard, The Swirling Eddies, Amy Grant, Michael W. Smith, and Russ Taff. Stonehill ended the night with a performance himself, which was filmed and released on the VHS-only One Night In 20 Years. In addition to the other performers listed above, the video also featured appearances by Pat Boone, Jerry Houser, Michele Pillar, Gary Chapman, Bryan Duncan and others, all recounting some of their favorite memories of Stonehill. That same year, Stonehill released Until We Have Wings, also produced by Mark Heard, an album that was split with half live material and half studio material. Likewise in 1990 Stonehill teamed up with Daniel Amos once again for an "Amos n' Randy" reuinion concert at Cornerstone 90. Stonehill closed the show by joining The Swirling Eddies onstage for some covers of The Beatles' "I Want to Hold Your Hand," The Animals "We Gotta Get Out Of This Place," and Louis Armstrong's "What a Wonderful World."
For his next project, Stonehill chose to reunite once again with producer Terry Scott Taylor for the Wonderama concept album in 1991. Stories, a "best of" collection released in 1993, teamed Stonehill with the Lost Dogs for three new tracks.
In 1994, Stonehill teamed up with other artists to pay tribute to longtime friend Mark Heard who had died in 1992 after suffering a heart attack during a performance at the Cornerstone Festival. Stonehill contributed his rendition of Heard's "Look Over Your Shoulder" for the CD Strong Hand of Love (later reissued on the double disc collection, Orphans of God.)
In 1994, Stonehill started StreetLevel Records. The label released Julie Miller's Invisible Girl, and Stonehill's own Lazarus Heart. By 1998, StreetLevel Records had been shuttered, inaugurating a period of label-hopping. Thirst was released on Brentwood Records. In 2001, Stonehill released a children's record using the name Uncle Stonehill, entitled Uncle Stonehill's Hat on the Holy Sombrero label. Also that year, Stonehill embarked on the "Legends Tour", with Daniel Amos, The 77s and Sweet Comfort Band. During the tour's performance at Cornerstone '01, Stonehill was joined on stage by Larry Norman for the song "Good News." 2002's Edge of the World (this time on Fair Oaks Records) followed, which brought together a number of musical friends including Phil Keaggy, Barry McGuire, Noel Paul Stookey, Love Song, Phil Madeira, Mike Roe, Russ Taff, and Sara Groves, and Larry Norman. This album marked the first time Stonehill and Norman appeared together on a recording since 1980's The Sky is Falling.
In 2006, Keaggy and Stonehill released a live concert on DVD and CD in support of the Compassion International Christian relief agency with which both men had long been associated. In 2006, Stonehill continued to record and tour around the world, primarily as a solo act with acoustic guitar. His sterling sense of humour comes through in his live performance as it does in studio recordings such as "American Fastfood" and "Shut De Do." He also toured in Australia. That year Randy was encouraged by Phil Keaggy to team up with Phil's childhood friend Mike Pachelli and formed Stonechelli Productions. They work out of Mike's Los Angeles based recording studio, Fullblast Recordings, producing like-minded artists from around the world.
In 2007, Randy Stonehill was involved in a number of different projects. Perhaps the most eventful was the return after more than 20 years of a band to back up Randy at select dates. The Randy Stonehill Band consisted of Mike Pachelli (lead guitar), Ronnie Ciago (drummer), and Baba Elefante (bass guitar). Randy and Mike Pachelli also toured frequently in a duet setting. Stonehill also spent time writing country music with a number of veteran songwriters in Nashville, including the Warren Brothers.
In 2008 Stonehill & Pachelli completed Paradise Sky, a re-make of eleven of his classic songs from the '70s that were used in the film Fallen Angel: The Outlaw Larry Norman directed by David Di Sabatino. Stonehill finished an album with Phil Keaggy titled Mystery Highway that was released in June 2009.
Randy was inducted into the Christian Music Hall of Fame in November 2010.
Randy Stonehill. (2011, July 19). In Wikipedia, The Free Encyclopedia. Retrieved from http://en.wikipedia.org/w/index.php?title=Randy_Stonehill&oldid=440367458